Continuing Education 2021 Fall Sessions : Online Only
All CE hours are pending approval by DPR. For verification of CE hours, please call (209) 525-4730 one week before the class. If you would like Spanish translation of any of our scheduled classes please contact our office before the date of the class.
Si desea una traducción al español de cualquiera de nuestras clases programadas, comuníquese con nuestra oficina antes de la fecha de la clase.
---
Webinars will begin August 5th, 2021.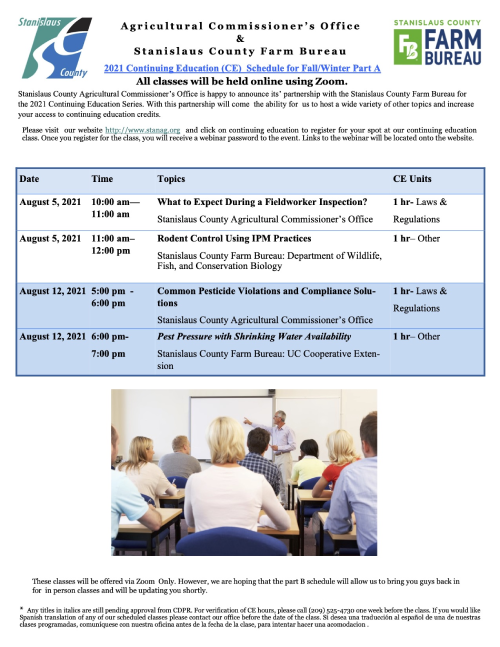 Click here for the full Schedule [PDF]
You must register for each Zoom webinar you wish to attend.
(Webinar Code will be provided after the submission of form)
Here are the following steps for you to get your certificate:
---
Continuing Education hours is non transferable please register in your own name while signing up.
2. Webinar
Session 1: August 5th, 2021 - Closed

10:00 am - 12:00 pm
Topic: What to Expect During a Fieldworker Inspection?
Topic: Rodent Control Using IPM Practices


Session 2: August 12th, 2021 - Closed

5:00 pm - 7:00 pm
Topic: Common Pesticide Violations and Compliance Solutions
Topic: Pest Pressure with Shrinking Water Availability

---
Be prepared for a Webinar:
If you plan on using a mobile device, such as a phone or tablet please make sure you download the app. Some mobile browsers do not support zoom.
You'll need to see the presentation
.
4. Certificates
Session 1: August 5th, 2021

10:00 am - 12:00 pm
Topic: What to Expect During a Fieldworker Inspection?
Topic: Rodent Control Using IPM Practices


Session 2: August 12th, 2021

5:00 pm - 7:00 pm
Topic: Common Pesticide Violations and Compliance Solutions
Topic: Pest Pressure with Shrinking Water Availability